The world of application development is a place where numerous new application comes frequently to the market, so there is no exact answer for, which type of application you should go for, Your choice will depend on your budget and time-scales.When it comes to mobile applications, You will face questions like What is native, hybrid and web application? , Which is the best one ?. So let us first understand what is native, hybrid application.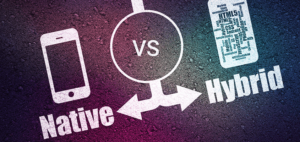 NATIVE APPLICATION
The native application program is developed for use on a particular platform(Android, IOS, windows) or device.As they written for a specific device and its operating system, it can have the full advantages of all the device features.Native applications are installed through an application store(Google Play or Apple's App Store).They can use latest features in a device like a camera, GPS(global positioning system) accelerometer, compass, a list of available contacts and gestures etc. native apps can use the device notification system and can work offline.
HYBRID APPLICATION
A hybrid application is one that combines elements of both native and web applications, like native application they live in an app store and take full advantage of the device.A hybrid application is often mentioned as a mobile computing.The key difference of hybrid application is they can be hosted inside a native application and utilizes mobile platform web view.This enables to access camera contacts, accelerometer and more.
DIFFERENCE BETWEEN NATIVE AND HYBRID APPLICATION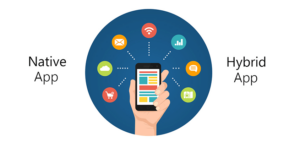 COST AND TIME
The hybrid application takes the least amount of time to develop and developed at a fair price when compared to the native application. A hybrid application is a one code maintainer whereas native application code need's developer for each platform.
PLATFORMS
If you wish to target just one platform and do not want a wider reach, then the native application is the best option, for those who are targeting wider reach, then a hybrid application is the best choice.Hybrid application reaches all platforms through a common application by changing few codes
USER EXPERIENCE
With the native application, it is possible to create a very engaging and interactive user experience because they are specially designed for a single platform where the user can get the best UI and compatible application, where it is impossible to provide a good experience with just one hybrid application for all platform.
COMPLEX
A native application can access hardware like GPS, camera, handle the hard keys of the phone, link to an online database, manage a large amount of client side data, run offline and access device widgets.With the latest technology, it is possible with the hybrid application.The only concern will be, Application becomes more and more complex and gets difficult to create a cross-platform.
Which is best?
Both have their advantages and disadvantages, Finding the right application may be challenging, consider what's your main goal and move on it.If you planned to develop a paid application then go for native application because they have high user experience, whereas free app can be developed as a hybrid application.
Mindspark Technologies is expertise in delivering powerful & highly performing mobile applications in major platforms such as Android, iOS.We built the application with cost effective design to our prospective client.