Few mobile applications are not useful for people, who do not have proper internet connection. Here we introduce our EYE DROP REMINDER LITE application that works completely offline. Our application is mainly built for users facing eye problems.Our application helps the users by notifying medicine intake time and has an option to add the prescription for future reference and other attachments related to medical history.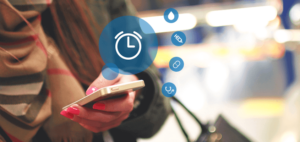 "HEALTHY EYES ARE BEAUTIFUL EYES"
Eye, the sensitive organ in our body that needs extreme care to prevent abnormalities, Problems in vision arise due to the variety of factors. Hence, preventive measures should be taken to maintain healthy eyes.
Our application allows you to manage prescription that is prescribed by the doctor, With our application, you can monitor the time interval to take medicines by generating reminders periodically. This application works on both android and iOS.
The key features of our application are,
ADD PRESCRIPTION:
Nowadays prescription has become a part of our life, so it is difficult to maintain many records, With EYE DROP REMINDER LITE application you can add new prescription that is prescribed by the doctor, By updating medicine name, type of medicine, description(Optional), time and date for the reminder.
MANAGE PRESCRIPTION:
Managing prescription is a difficult task in our day-to-day life. With our eye drop reminder application, you can manage prescription, Once the prescription period ends, you can use "Delete prescription" option to delete from your available list.
MY CHARTS:
As we mainly focus on our daily works, it is difficult for us to remember the whole session, So our application allows the user to monitor medicines intake in chart representation. The charts feature helps you to identify the prescribed medicines taken on a particular day.
MY ATTACHMENTS:
As we are living in a technology era, we mainly focus on products that are advanced to the day. Our technology evolution application allows the user to manage attachments by updating images using device camera or from the gallery by updating with a unique name.
REMINDER:
It is better to keep track of things using a system rather than your memory, EYE DROP REMINDER LITE allows the user to set the reminder for the prescribed medicines.The reminder alerts to intake medicine periodically. After each intake of medicines, the user can select "DID" button to mark it out.This option helps the user to track any fallouts in your prescription schedule.
Mind Spark Technologies provides the best solution for Mobile and Web Applications, we mainly focus on Responsive and User-friendly designs for our prospective clients.