GDPR – General Data Protection Regulation
The European Union (E.U.) Regulation 2016/679 GDPR (General Data Protection Regulation) goes into effect May 25, 2018.
Any organization which holds E.U. citizen data is responsible for following new guidelines.

About GDPR
The GDPR was created to regulate how businesses use E.U. citizen data across the entire E.U. It will apply to smaller businesses as well as large corporations including Google, Facebook, Amazon and so on.
GDPR compliance effects any organization that collects, stores and use any E.U. citizen's information.
According to GDPR:
· E.U. citizen data should not be used without consent.
· Organizations are accountable for E.U. citizen data.
· E.U. Citizens have the right to update their data.
· Organization fails to comply with GDPR regulation would be fine.
GDPR Timeline of Events
Approval & Adoption
2015 – December 15th, the Parliament, and Council have come to an agreement, and the text will be final as of the Official signing to take place in early January 2016.
2016 – January
April 8th – Adopted by the Council of the European Union
April 16th – Adoption by the European Parliament
May – Regulation will enter into force 20 days after it is published in the EU Official Journal
Enforcement
2018 – May – Following a 2 year post-adoption grace period, the GDPR will become fully enforceable throughout the European Union.
Following reference on eugdpr.org provide a detailed timeline.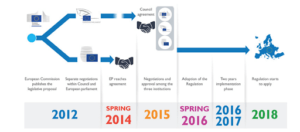 GDPR Compliance
Every organization that handles E.U. citizen data is responsible for implementing GDPR regulation to protect and empower all EU citizens data privacy in their organizations. Enterprises must show documented proof toward GDPR compliance has been made and, that data protection, privacy policies, and procedures are in place, will have a much better chance of avoiding penalties and fines when the next security breach occurs.