What is agile methodology, and how should it be practiced in software development project?
AGILE methodology is a practice that promotes continuous iteration of development and testing throughout the software development project.
Agile development methodology can provide faster solutions to problems. Considering advancement in new technology, all businesses today need to be more dynamic, save time, reduce development costs and be able to achieve faster-time-to market; To stay on top of ever changing world, every business depends on technology which is a main factor for success.
Agile development promotes a disciplined approach to processes at various stages of software development.
Agile development methodology resulting in rapid delivery of quality software that is aligned with customer needs.
Agile emphasizes on individual interactions, customer collaboration, continuous testing and improvement.
While facing new challenges every day, Information Technology Industry is leaning towards becoming more agile.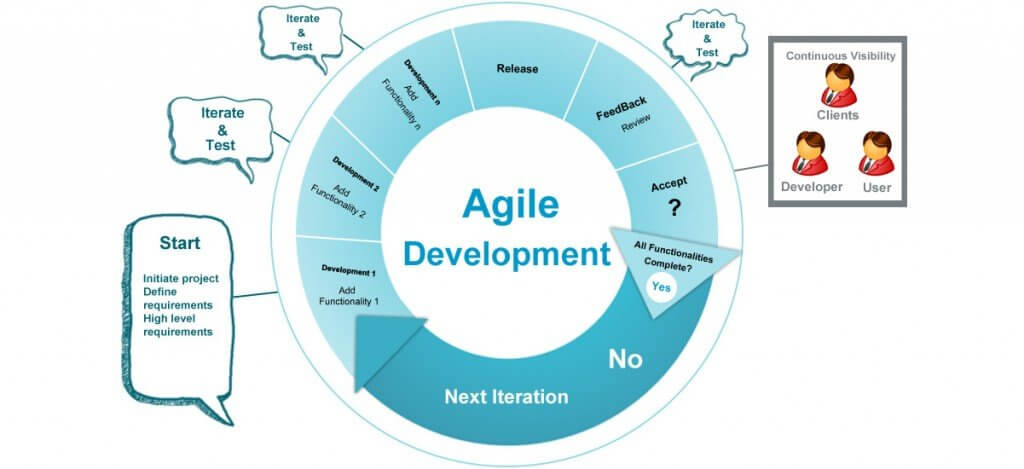 Agile software development emphasizes four core values.
      

Individual and team interactions over processes and tools

      

Working software over comprehensive documentation

      

Customer collaboration over contract negotiation

      

Responding to change over following a plan
Agile development prioritizes customer satisfaction and emphasizes delivery of valuable software. It adapts to changes in requirements even in the later stages of software development. Enterprises in the IT industry must follow strict deadlines without compromising on the quality. Many organizations are moving towards adopting the agile method for software development.
Agile helps in predicting the development costs of the products along with the delivery schedule time. Many clients are demanding the IT service providers implement agile approaches.
This approach also allows seamless integration of IT with a business, further fueling its growth.
Organizations often face difficulties in transitioning from traditional methods of development to agile development.
Mind Spark Technologies overcomes these hindrances to achieve smooth transition from traditional development to agile development.
We would recommend you consult our agile experts who have wide knowledge on Agile methodology, if you are not sure or need to support with  your approach or projects.
Mind Spark Technologies is an industry-leading provider of Software as a Service (SaaS) primarily for the Financial Services, Healthcare & Insurance, Manufacturing, Logistics & Travel, Entertainment, Pharmaceuticals, and Retail